Enduring Strength And Beauty
Our door frames are designed with the strength and endurance to guarantee steady, secure performance year after year. Made from lead-free 100% virgin uPVC these multi-chamber profiles provide outstanding insulation properties, a perfect weatherproof fit and superior strength.
Continuous Sill
Designed for optimum performance, our one-piece continuous sill is manufactured to increase strength and rigidity.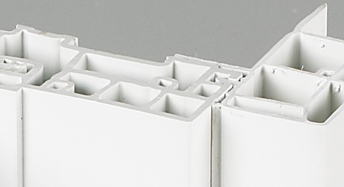 Built to last
Entry doors take the most punishment in your home. Continual opening and closing, plus the
ravages of varying weather conditions pay a heavy toll on the doors and frames. Our u-PVC
door frames are designed to endure the day to day punishment and perform flawlessly for years.

The benefits of PVC, the appearance of wood
DoubleNature® offers the organic and natural warmth of wood… without the maintenance. In conjunction with our variety of stained fibreglass doors, its the perfect combination of beauty and practicality, innovation and tradition. DoubleNature® is a water-based, UV-resistant stain available in a range of natural colours inspired by some of the world's most noble wood species; Cherry, Golden Pecan, Mahogany, Oak, Redwood, and Walnut. Available only on vinyl entrance door frames when paired with textured fibreglass doors.
DoubleNature® finish options