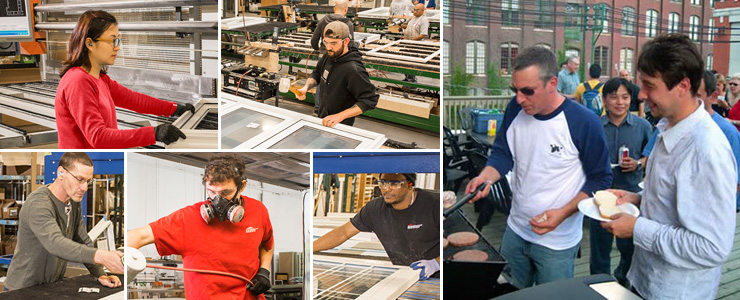 We Work Together To Build The Best Windows And Doors In The Industry.
Strassburger Windows and Doors' role as a leading manufacturer of premium windows and entrance door systems encompasses more than just products and processes… it's our people who drive our success and are our most important asset.
We are always looking for ambitious, hard-working, reliable, and quality-focused individuals to join our teams in all areas of production, including assembly, painting, packaging, material handling, shipping and receiving. These hands-on manufacturing roles offer constant exposure to new skills within a collaborative, and engaging workplace culture.
Your Contributions Make A Visible Difference.
We believe in having a diverse and inclusive culture that prioritizes a welcoming and supportive atmosphere where people of various backgrounds can feel comfortable and flourish. We ensure that people can do their best work and are empowered to make a difference. We value transparency and welcome our employees to speak up, ask questions, and provide feedback so we can keep growing as an organization.
We offer our employees…
• Competitive compensation
• Excellent benefits
• Opportunities for professional advancement
• Family-friendly Monday to Friday work hours
• Free on-site parking
• Convenient access to Grand River Transit
Check out our job postings on INDEED:

Interested candidates can also forward their resume directly to:
recruitment@strassburger.net
We thank all applicants for their interest! Only those considered for an interview will be contacted.